Who is Mary and why does she matter?
Theologian and author Dr. Robert Stackpole's excellent book interests Catholics and non-Catholics alike by offering answers to common
...
Read more
$14.95
Buy Now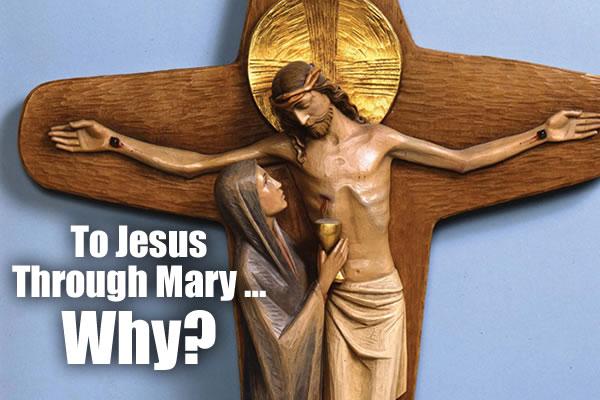 To Jesus through Mary ... Why?
We recently received a letter from Tennessee with a question in response to "And let it begin with me: A 'Hail Mary' play for peace" (Marian Helper, Winter 2016-17). Linda writes:

... the Rosary says more Hail Marys than Our Fathers or Glory Be to the Fathers. I don't understand why more is given to Mary. My Bible teaches me we have one mediator (see 1 Tim 2:5-6) ... Jesus did not teach that I must come through His mother, Mary. I know that Jesus came to us through the Virgin Mary, from God the Father. ... Please help me to understand why I should go to Mary instead of directly to the Lord Himself when He tells me to come directly to Him.

We responded: Many thanks for your letter! We're always glad to hear from readers.

Yes, there are more Hail Marys in the Rosary than Our Fathers or Glory Be to the Fathers because we walk with the Blessed Virgin as we pray it. Scripture tells us that Our Lady pondered the events of Christ's life (see Lk 2:19). Tradition tells us that she's the one who created the Stations of the Cross, a devotion that allows us to spiritually accompany Christ through His Passion, Death, and Resurrection. Similarly, the Rosary guides us to pray and meditate, pondering the mysteries of the Incarnation in our hearts, asking the Blessed Virgin Mary to pray for us as we imitate her pondering prayer. Further, we fulfill Scriptural prophecy whenever we pray the Hail Mary, for Mary foretold in her Magnificat, "Behold, from now on will all ages call me blessed" (see Lk 1:48). We quote Scripture in the first half of the prayer (see Lk 1:28, 42), and ask for Mary to pray for us in the second half of the prayer.

You ask, "Why must I go through Mary to obtain my salvation through Jesus?" The simple answer is that you certainly must go through Jesus to obtain your salvation, which means that you will go through the Mystical Body of Christ, which is the Church (see Rom 12:4-5; 1 Cor 12:12-27). You cannot separate Jesus, the Head of the Body (see Col 1:18), from the members of the Body. To accept Jesus as your Lord and Savior is to accept the members of the Body as your brothers and sisters, and to accept the Blessed Virgin Mary as your mother (see Rev 12:17), for she is the mother of Jesus, the Head — and what mother would refuse to pray for her children in need?

Now, certainly we can and we must pray directly to Jesus; our salvation comes from the Second Person of the Blessed Trinity; Jesus is God and Mary is not. No, you don't need to preface every prayer by saying, "To Jesus, through Mary." But we can and should ask other members of the Mystical Body to pray for us. Jesus is the one Mediator; other believers are members of Jesus' Mystical Body; when we speak to a Christian, we are, in a mystical sense, speaking to Jesus (see Acts 9:4-5). We share in His mission of mediation to the world (see 1 Cor 12:12-27). ... The Church is the Mystical Body; the Church is also the New Israel. Jesus came as the Son of David (see Mt 1:1; Lk 18:38), as the King of Kings in the new Israel, and the sons of David always had their mother as queen in their kingdom. The role of the Queen Mother (gebirah) was of intercessor to the king on behalf of the poor of the kingdom. In the new and everlasting kingdom of Christ, the Blessed Mother is our intercessor and advocate (see Jn 2).

And certainly, we owe her honor, for we serve Jesus and imitate Him. Jesus will not disobey His own law; He honors His Father and mother (see Eph 6:1-2). ... Indeed, we are her children, too. She who gave birth to the Messiah, the One who would rule all nations with an iron rod (see Rev 12:5) is also the mother of "the rest of her offspring, those who keep God's commandments and bear witness to Jesus" (Rev 12:17).

And so we pray to Jesus, and we ask the Blessed Virgin Mary's intercession. We try to love Mary like Jesus does, and to love Jesus like Mary does.

For more on the teachings of the Church about the Blessed Mother, see Dr. Robert Stackpole's Mary: Who She Is and Why She Matters.