Home / News & Events / Mercy Meditations
Are you grateful? For St. Faustina, every day was "Thanksgiving Day."
When we commemorate the Presentation of the Blessed Virgin Mary on Nov. 21, we're celebrating the dedication of God's greatest creation to her Creator.
Blessed Solanus Casey, pray for us! In honor of his beatification, here's a special edition of 'Models of Mercy.'
Asking "what are you thankful for" is a good tradition. Father Dan suggests a slightly different take.
November 13 is the feast day of Mother Cabrini, known for her service to the poor and her missionary zeal.
May we be men and women of great prayer and service, as St. Martin of Tours was, whose memorial we celebrate Nov. 11.
Got a minute? Find out what makes a Marian.
Although Faustina was given to the Church and the world exactly when she was most needed, her witness continues.
Praying for someone in need of conversion? Don't give up! Here's some encouragement.
Theologians respond to objections to having St. Faustina declared a Doctor of the Church.
See what made this biographer of St. Faustina a special soul.
For All Souls' Day (and all November), Fr. Dan gives us good reasons to care about Purgatory.
Do you have the courage to be a saint?
If costuming your children as witches, ghosts, or demons concerns you, fine — exorcise the demons from the wardrobe!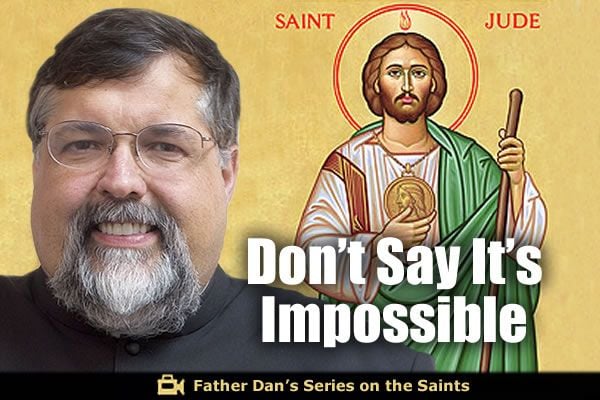 Father Dan Cambra's series on the saints turns to the Patron Saint of the Impossible.
First Page | Previous Page | Next Page | Last Page