Home / News & Events / In the News
Some of the world's leading experts in the message of Divine Mercy will gather Oct. 12-13 in Milwaukee, Wis., and Dick and Terry Boldin couldn't be happier.
Some 10,000 people from around the world — church officials, clergy, religious, delegates, and many thousands of lay people, all of whom share a love for Divine Mercy — are expected to attend the milestone gathering.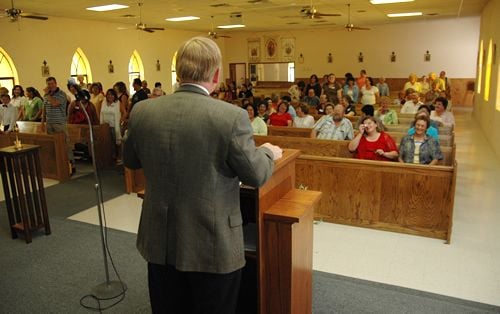 This is what happens when people draw closer to The Divine Mercy.
For the third consecutive year, the Marians of the Immaculate Conception hosted the lively sights, sounds, and smells of salvation, song, and salsa as more than 3,000 pilgrims gathered on Eden Hill for Encuentro Latino.
Well, imagine my surprise when I saw mercy writ large in the day's headlines right on the front page.
The milestone event in Rome next year could very well become the defining moment in spreading the message of Divine Mercy.
It was deja vu on April 24, 2006, as Vinny Flynn and his family music ministry, Stillwaters, took part in the re-filming of the Chaplet of The Divine Mercy for daily broadcast on EWTN.
As the summer traveling season begins, the Vatican has made a plea that mercy be the new code of the road.
At its annual media convention, the Catholic Press Association announced that Marian Helper magazine won three awards, including "First Place" in the category of "General Excellence."
With the Feast of the Body and Blood of Christ (Corpus Christi) on June 10, let's reflect on Mother Teresa's words: "The Eucharist involves more than just receiving; it also involves satisfying the hunger of Christ."
What are we to make of Pope Benedict XVI's book Jesus of Nazareth, which in just over a month has sold more than 1.5 million copies?
As we pray for the fallen and eulogize them, tears roll down the distraught faces of the silent soldiers. The moment of painful truth comes when the roll call begins.
Marie Romagnano, RN, stood before a conference hall filled with 200 medical professionals on Wednesday afternoon and asked for a show of hands for how many have read the Diary of St. Faustina. Nearly everyone raised a hand.
As the nation struggles for answers in the aftermath of the horrific Virginia Tech massacre of April 16 in Blacksburg, Va., we can find inspiration in the midst of the tragedy to forgive and pray as people of mercy. Our witness can testify to a hurting world that ultimately Divine Mercy — not evil — has the last word.
For nearly 12 years, as an editor and writer for the Marians of the Immaculate Conception, I've been covering the Divine Mercy movement. And now I think that I'm seeing this dynamic movement come of age in the life of the Church.
First Page | Previous Page | Next Page | Last Page