MOMM's flagship presentation: This film brings the heart of St. Faustina's famous Diary to life in a moving and informative way. Tell All Souls About My Mercy: Includes Chaplet of... Read more
$19.95
Buy Now
Photo: Courtesy of Florida Today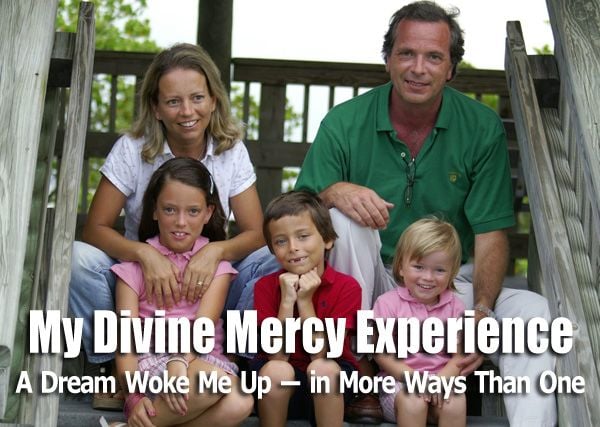 Paul Pritchard, with his wife, Ana, and their children, Carolina, Tomas, and Marta.
By Paul Pritchard

It was just before Christmas in 1999. My wife and I had decided to get away for a week, and so we drove to the mountains in southern Spain to go skiing. We were living in Portugal at the time. I was working as a law professor and public policy attorney.

Professionally, things were falling apart for me. The trip to Spain was an effort to get away from all the difficulties in my career. The trip turned out to be much more than that.

About half way into the week, in the early hours of the morning, I awoke from a strange and powerful dream. In my dream my wife and I were walking down a winding road. One side of the road was bordered by a river, and the other side had a line of older buildings and shops in what I suspected at the time was the town of Granada, located at the base of the mountain where we were staying. As we are walking along looking in the shop windows at the Christmas decorations, I caught a glimpse of a nativity scene on the steps of a corner building.

I was drawn to it. As we approach it, the whole nativity scene suddenly blended together and transformed into a life-size image of Jesus Christ, with water flowing down the steps and being gathered in small clay bowls. I fell to my knees and begged Him, "Let me be all I can be." I was referring at the time to my career. My prayer was for secular concerns, but, as I later found out, Christ had bigger plans for me. He wanted me to be all I could be spiritually.

In my dream, with a gesture of His right arm and with water flowing from His hand, He responded to my request by saying the word Confia, which in Portuguese means "trust."

"Confia," He said to me, as the water flowed from His hand and struck me across my chest.

At that moment, I woke up. I was so startled by this dream that I woke my wife up and told her about it.

"Paul," she said, "the only thing I can think it means is about the booklet of The Divine Mercy I gave you some time ago, and you just put it in the bedside table drawer."

It's true. She had given me a booklet on Divine Mercy, a booklet that I left off to the side without reading.

This dream started what I call a speeding freight train of spirituality. Upon my return from the trip, I found the booklet and promptly read it cover to cover. I had a burning desire to know more about the Divine Mercy, more about the revelations of St. Faustina — more about God, more about this dream, and more about me.

I went and talked to my local priests. I drove to Fatima to visit the Irish Dominican nuns. By the time I got to their convent, the sisters where closing up their little shop for the day. I pleaded for some piece of reading material — anything — in English. One of the sisters requested that I come back again the following morning. But just as she was about to close the door, she called me back and gave me a little prayer book with the title My Daily Bread. She said a sister who was no longer at that convent had left it behind and that I could have it.

As I walked away, I opened the book and found a handwritten dedication in it from one sister to another sister. It read, "To Sister Theresa of the Child Jesus, on this your Feast Day, with my prayers, Sister Faustina."

I laughed joyously when I read that. What were the chances that I'd be given a book had been dedicated by a nun named Faustina? Not only that, the book had a bookmarker inside it with an image of The Divine Mercy!

The next day, I told the Dominican sister at the little shop what her gift meant to me — that it had served as confirmation to me to embrace the message of the Divine Mercy and to build my relationship with Christ and the Church.

So now I was hooked. By that, I mean I felt like I had nowhere else to turn — no choice but to turn to God with trust. I had been raised Catholic, but just as I had done with that Divine Mercy booklet my wife had given me, I had pushed my spiritual life to the side in pursuit of my career. With blinders on, I had pursued my career until I reached a point where it had all started breaking down and I had found myself lost.

Now, here I was being reeled in to a powerful spiritual experience. I felt pulled toward an understanding of the Holy Spirit and how it acts in the world. I was being pulled into an understanding that Christ is Mercy and that He seeks to heal us and transform us into His hands and feet on earth.

I devoured book after book. I read the Bible, of course. I spoke with everyone I could. I was baptized in the Holy Spirit on Feb. 14, two months to the day of my dream. Incidentally, I found out that my dream had occurred on the Feast of St. John of the Cross (St. John of the Cross, a mystic, had established a monastery in Granada, where my dream had occurred).

The years that followed have been grace filled, difficult, adventurous, and busy. The highlights include attending a charismatic renewal program in England; promoting the celebration of Divine Mercy Sunday; baptizing our son Tomas at three o'clock on Divine Mercy Sunday, 2001 (incredibly, the reading was about St. Thomas the Apostle); traveling as a family to the United States and helping to spread Divine Mercy in Florida; establishing prayer groups in England and elsewhere; earning my masters degree in pastoral counseling; being awarded an honorary Ph D in Christian counseling; and writing a book, Four Steps to Healing: Trust, Surrender, Believe & Receive in 2007.

After traveling for several years, my family and I have returned to the United States and have settled in Cape Canaveral, Fla. I had to get back to work and have subsequently returned to consulting in international business and financial law.

But I have returned to work a changed man. I no longer struggle with the spiritual aspect of things. I no longer struggle in knowing what is infinitely right and wrong. Through words, actions, and prayers, I seek to bring God's mercy into people's lives.

And I trust in Jesus in a way I never imagined or thought possible.