Home / Divine Mercy Apostolates / EADM Homepage / Invite or contact Bryan Thatcher
Invite or Contact Dr. Bryan Thatcher
Do you want to invite Dr. Bryan Thatcher to come and give a dynamic Day of Reflection or possible other event? Please consider having him for your next weekend event!
Biography of Bryan Thatcher, MD
Bryan S. Thatcher, MD, of Tampa, Florida, is a retired medical doctor who travels the world speaking on the Real Presence of Jesus in the Eucharist, the message of Divine Mercy, and his personal conversion. He and his wife, Susan, have seven children, ages 34 to 11.

In 1996 he founded Eucharistic Apostles of The Divine Mercy (EADM), now a lay apostolate of the Congregation of Marian Fathers of the Immaculate Conception. EADM is now active in more than 45 countries, and the ministry has received three special apostolic blessings for its work from the late Holy Father, St. John Paul II. Dr. Thatcher has traveled across the United States, Canada, as well as to Central and South America, many countries in Africa, Europe, India, Philippines, Malaysia, Singapore, and the Solomon and Samoan Islands to speak on God's mercy and the great gift of the Eucharist. He hosted a series, "Cenacle of The Divine Mercy," that aired on EWTN, has done numerous radio shows across the country, and is a frequent speaker at conferences. He is the author of several books on Divine Mercy and the Eucharist.

EADM promotes the notion that Divine Mercy is more than a message or devotion, rather, it is a "Way of Life."
NACOM Dr. Bryan Thatcher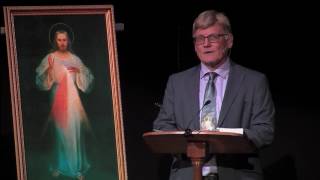 Dr. Bryan Thatcher, M.D., founder of EADM, speaks at the North American Congress of Mercy.
Watch video...
A Day of Reflection
Laughter, tears, prayers, and rejoicing were the hallmarks of the Day of Reflection on Aug. 11, at Our Lady of Mount Carmel, in Moriarty, N.M.
Read more...
* - Required Information