Home / Mercy Ministries / EADM Homepage / Stories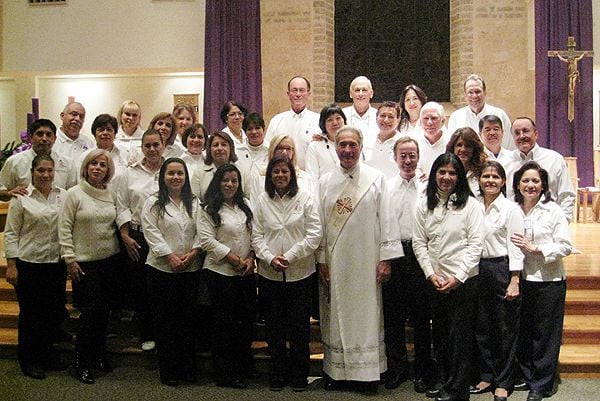 A Cenacle Grows in San Antonio
The Cenacle of Divine Mercy at Holy Trinity Catholic Church in San Antonio, Texas, began Jan. 26, 2010. The formation began when cenacle members from the Oblate's and one from St. Mark's Catholic Church came together as parishioners of Holy Trinity Catholic Church seeking to spread the message of mercy at the parish.

After careful preparation, the group met with the pastor of the church at that time, Bishop Oscar Cantu, and Deacon Guy LoTurco. Interesting to note that as we finished the presentation to the bishop and deacon, Bishop Cantu informed us he had been at the canonization of St. Faustina in Rome and pointed at a picture of the scene in his office.

Great sign!

Approval for the cenacle was granted, and the first cenacle was held with Deacon Guy as our spiritual advisor.

Immediately thereafter, the Spanish cenacle was formed. The Spanish cenacle has grown to more than 25 participants and is involved in many parish activities as well as works of mercy. The two groups work to spread the message of mercy as individuals and as groups by participating in various ministries such as visiting the sick in hospitals, the elderly in nursing homes, feeding the hungry, and visiting the youth in a shelter in San Antonio. Individuals from our group also participate in efforts such as the ACTS mission, the Mission of Divine Mercy at Canyon Lake, the Divine Mercy Congress, Haven for Hope, Allied Women's Health Center, assistance in startup of new cenacles, and more.

The groups meet weekly to read Scripture, the Diary of St. Faustina, and the Catechism of the Catholic Church. We also meet on the last Tuesday of the month for Benediction Service. Deacon Guy LoTurco officiates the service where the Chaplet of The Divine Mercy is prayed and the whole community is encouraged to attend. In addition, Divine Mercy Sunday is celebrated with Benediction Service and recitation of the Chaplet.

We continually remind ourselves of the mission of Eucharistic Apostles of Divine Mercy and are extremely grateful for the support of our parish. Thanks to all the cenacles that came before us and to those that will come after us.

Most importantly, thanks be to God.