The Extraordinary Jubilee Year of Mercy
Dec. 8, 2015 - Nov. 20, 2016
In calling for this Jubilee Year, Pope Francis is encouraging the faithful to know the face of God's mercy — Jesus Christ Incarnate — and to show that face of mercy to the world through our words and actions.
"I am confident that the whole Church, which is in such need of mercy for we are sinners, will be able to find in this Jubilee the joy of rediscovering and rendering fruitful God's mercy, with which we are all called to give comfort to every man and every woman of our time. Do not forget that God forgives all, and God forgives always. Let us never tire of asking forgiveness."

– Pope Francis
Resources

Divine Mercy 101 Kit
Includes everything listed here, PLUS everything in the Fatima Pack. Includes: "The Divine Mercy Explained", "Now is the Time for Mercy", "Divine Mercy 101" DVD, Father, Forgive Them Prayercard, Divine Mercy Tri-Fold Card, and the following pamphlets: Works of Mercy, How to Make a Good Confession, Devotion of Divine Mercy, The Message of Divine Mercy and Father, Forgive Them.
Product Code: DMKIT
Price: $29.95

Divine Mercy 101 DVD
This popular presentation by Fr. Chris Alar, MIC, is better than ever: all the basics of Divine Mercy in a clear, one-hour presentation.
Product Code: DM102
Price: $9.95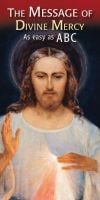 Message of Divine Mercy
Ask for God's mercy, be merciful and completely trust. An overview of the elements of the Divine Mercy message.
Product Code: DMMR
Price: $0.16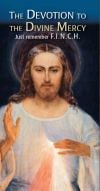 Devotion to Divine Mercy
This popular and newly revised pamphlet on the Devotion to Divine Mercy This pamphlet is ideal for prayer groups, parishes, mission groups, and more!
Product Code: MPL2
Price: $0.16