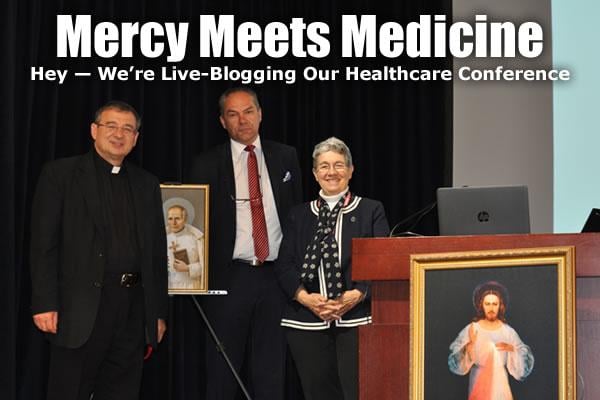 The Very Rev. Fr. Kaz Chwalek, MIC, and Marie Romagnano, RN, present Dr. Waldemar Szypulski with an image of the Marians' Founder St. Stanislaus Papczynski.
13th Annual Divine Mercy Medicine, Bioethics, and Spirituality Conference
By Melanie Williams (May 3, 2017)
Today begins the two-day 13th Annual Divine Mercy Medicine, Bioethics, and Spirituality Conference, sponsored by the Marian Fathers and Healthcare Professionals for Divine Mercy. It is being held at the College of the Holy Cross in Worcester, Massachusetts.

We'll be filing reports and video throughout the next two days.

8:45 a.m. Dr. Bryan Thatcher, MD, international director of Doctors for Divine Mercy and founder of Eucharistic Apostles of The Divine Mercy, presented on "Healthcare, Addictions, and Healing of the Wounded Healer"

Dr. Thatcher explained that alcohol is the most abused substance among healthcare providers, followed by opiates; 6-8 percent of providers abuse drugs and 14 percent abuse alcohol.

To heal the "wounded healer," Dr. Thatcher proposed an adaptation of a 12-Step Program, integrating the message of Divine Mercy as revealed to St. Faustina.

1. Admit that you are powerless against the drug, alcohol, etc.
— Read Diary 55

2. A higher power can help; God is the Higher Power – Phil 2:9
—  Read Diary 281, 890, 949, 1487

3. Turn your life over to Him.
— Jesus, I trust in You!
— Read Diary 1488

4. Make a moral inventory (which can be painful). Make an Examination of Conscience.
— Read Diary 1487

5. Admit to God and to another human being your wrongs. Make a good Confession.
— Read Diary 113, 1488

6. Be ready to have God remove all these defects of character.
— Read Diary 185

7. Humbly ask Him to remove your shortcomings.
— Go to meetings, counseling
— Read Diary 55, 1486

8. Make a list of all the people you have harmed and be willing to make amends.

9. Make amends whenever possible.
—  Read Diary 1486

10. Continue to take personal inventory.
— Read Diary 1488

11. Prayer and meditation — improve our conscious contact with God, knowledge of His will and carry it out.
— Pray "Thy Will be done," and "Jesus I trust in You"
—  Read Diary 1487, 1784

12. Carry this message and practice into all of your affairs.
-Read Diary 742
-Mercy by deed, by word, and by prayer

In conclusion, we are all broken and in need of God's mercy. Receive His mercy and share it with others.

+ + +

9:30 a.m. Father Seraphim Michalenko, MIC, Ph.B., STL, SEOL, Theologian, Author, former Vice-Postulator for Cause of St. Faustina presented on "The Healing Sacraments for the Patient and Healthcare Professionals"

Father Seraphim spoke on the gift of faith and hope in the midst of affliction.
"Faith is the channel which makes God's possibilities available to us… It is real, it is a substance. As believers we walk by faith, not by sight (see Ps 27:13)."

He explained that affliction serves a useful purpose for the believer — it prepares the believer for eternal life as he or she grows in perseverance and faith. However, if you lose sight of God and Heaven in affliction, you lose the benefits of afflictions. "Truth received into the heart is transforming (see Prov 4:23)," and the truth that God is with you in affliction transforms your experience of affliction.

Father Seraphim further explained that while faith is in the heart, hope is in the mind, and "faith at work in the heart produces hope in the mind." Faith is in the present and hope is in the future. If you have faith that God is with you in your present affliction, you will have hope that He will work all things for your good (see Rom 8:28).

Father Seraphim said that prayer is necessary in affliction. "Faith to receive is in the present; the manifestation of what we receive is in the future, but without the present faith, you will not have the assurance of the reception in the future."


See Fr. Seraphim's Full Presentation here:



+ + +

10:45 a.m. Dr. Waldemar Szypulski, the Department Chief and Clinical Specialist ICU, from Ełk, Poland presented the first of two presentations on the Case Study of Barbara Rudzik and her miraculous cure of ARDS, Pneumonia, Septic Shock, and Total Organ Failure through the intercession of St. Stanislaus Papczynski, the founder of the Marian Fathers of the Immaculate Conception.

Gasps and sighs of awe could be heard throughout the conference hall as Dr. Szypulski gave the medical details of the miraculous healing of Barabara Rudzik to healthcare professionals in attendance.

See Dr. Szypulski's full presentation here:



+ + +
1 p.m. Kathleen B. Scoble EdD, RN, Dean, Elms College School of Nursing presented on "Healthcare Professionals as Leaders in the Spiritual Care of Patients."

Dr. Scoble emphasized to healthcare professionals in attendance the importance of compassionate presence with patience, especially in traumatic moments. This is important to teach any nursing and medical student.

Dr. Scoble said, "We have the opportunity and the calling to impact the leaders of the spiritual and medical caretakers of the future, who will take care of patients at their most vulnerable."

See Dr. Scoble's full presentation here:



+ + +


2 p.m. Ron Sobecks, MD, a Hematologist Oncologist from the Cleveland Clinic presented on "An Approach to Caring for Pediatric Hemotology Oncology Patients"


Dr. Sobecks suggested that healthcare professionals pray this prayer by St. Faustina (Diary of St. Maria Faustina, 163) when caring for pediatric hematology oncology patients:



O Most Holy Trinity! As many times as I breathe, as many times as my heart beats, as many times as my blood pulsates through my body, so many thousand times do I want to glorify Your mercy.

I want to be completely transformed into Your mercy and to be Your living reflection, O Lord. May the greatest of all divine attributes, that of Your unfathomable mercy, pass through my heart and soul to my neighbor.

Help me, O Lord, that my eyes may be merciful, so that I may never suspect or judge from appearances, but look for what is beautiful in my neighbors' souls and come to their rescue.

Help me, that my ears may be merciful, so that I may give heed to my neighbors' needs and not be indifferent to their pains and moanings.

Help me, O Lord, that my tongue may be merciful, so that I should never speak negatively of my neighbor, but have a word of comfort and forgiveness for all.

Help me, O Lord, that my hands may be merciful and filled with good deeds, so that I may do only good to my neighbors and take upon myself the more difficult and toilsome tasks.

Help me, that my feet may be merciful, so that I may hurry to assist my neighbor, overcoming my own fatigue and weariness. My true rest is in the service of my neighbor.

Help me, O Lord, that my heart may be merciful so that I myself may feel all the sufferings of my neighbor. I will refuse my heart to no one. I will be sincere even with those who, I know, will abuse my kindness. And I will lock myself up in the most merciful Heart of Jesus. I will bear my own suffering in silence. May Your mercy, O Lord, rest upon me.

Amen.

Dr. Sobeck's emphasized that it is important to be not only compassionately present and caring to a patient's physical needs, but also their spiritual needs also. Healthcare professionals who serve the spiritual needs of their patients bring their patients to the Lord and reject a culture of indifference. They strive to grow in virtue and help their patients to do so also. Just as patients can die from illnesses and disease, so too their souls can become "sick" and die from sin.

Dr. Sobecks said, "We are called to become conduits of Divine Mercy for the World — by deed, by word, and by prayer… Let yourself be taught by the children you care for, and like Our Lady of Fatima called us to, get on your knees and pray the Rosary for peace and healing in a world that needs it."

+++

3 p.m. Q&A Panel




+++

4 p.m. Sister Gaudia Skass, OLM, Sisters of Our Lady of Mercy presented on "Not Alone: Healthcare Professionals Incorporating Spirituality into Patient Care."

Sister Gaudia spoke on how much the world is crying out for help. Just turn on the news and you can see many who feel alone and in need of help. The good news, though, is that you don't have to be the savior — Jesus is! And He is always with you — you are never alone.

Sister Gaudia said, "You are not alone. He is with you every day on this battle called life." Sister Gaudia recalled the story of St. Faustina from paragraph 320 in the Diary.


After the adoration, half way to my cell, I was surrounded by a pack of huge black dogs who were jumping and howling and trying to tear me to pieces. I realized that they were not dogs, but demons. One of them spoke up in a rage, "Because you have snatched so many souls away from us this night, we will tear you to pieces." I answered, "If that is the will of the most merciful God, tear me to pieces, for I have justly deserved it, because I am the most miserable of all sinners, and God is ever holy, just, and infinitely merciful." To these words all the demons answered as one, "Let us flee, for she is not alone; the Almighty is with her!" And they vanished like dust, like the noise of the road, while I continued on my way to my cell undisturbed, finishing my Te Deum and pondering the infinite and unfathomable mercy of God (emphasis added).


Although beyond our sensible grasp, Jesus is always with us. This is our challenge — following His footsteps even if they are barely visible. In the beginning of our journey, it may be filled with many consolations, but over time it will become a journey more of fidelity than feelings.

If you are afraid in your journey, continue on this path with the Lord… peace will enter. Even if you fail, it won't be the end — you won't find yourself suddenly alone. Your Rock will always be with you.

Sister Gaudia said, "Feeling rule the world today. We, as a society, aren't interested in things that don't generate emotions in us. Many are not interested in prayer or the Eucharist because it is not always full of feelings — it is challenged. But faith isn't a feeling — it is a knowledge that He is always with us. Often in those times when He feels the farthest you, He is actually the closest to you."

Sister Gaudia also shared St. Faustina's advice on how to hear the Lord and know His presence:
"In order to hear the voice of God, one has to have silence in one's soul. Not a gloomy silence, but an interior silence — a recollection in God…. Strive to stay recollected—only recollected souls hear His voice."

Make an examination of your life: How much silence do you have in your daily life? If you already have this exterior silence, examine your interior silence — are you at peace interiorly? We all need healing to have interior silence.

Secondly, we must read Scripture. God's Word reminds us we are not alone. Thirdly, we must have exclamatory prayer — prayers we pray out loud to God and pray over and over again. Prayers such as "Jesus, I trust in You," "I can do all things in Him," or even just "Jesus, You know."


Additionally, do everything with Jesus, aware of His continual presence with you. Do everything as "we" (you and Him). To help you remember that He is with you, change small things in your environment that can be reminders of His presence. Surround yourself with holy images and statues, as you can without imposing on others, to remind you of His presence with you.

St. Faustina wrote, "I look for no happiness beyond my God, who dwells in me interiorly." If we live with this interior peace, you will have happiness, and you can face even the most difficult reality.

"There is nothing to be afraid of… always remember that you don't have to deal with anything on your own. You give God great pleasure by inviting Him to be with you, help you, and share your daily life… be with Him also, in His pain. He wants to share your life with you."


See Sr. Gaudia's full talk here:



+++

5 p.m. Nurse Marie Romagnano, RN, BSN, CRC, CCM; founder, Healthcare Professionals for Divine Mercy gave her own witness entitled "When the Healthcare Professional Becomes the Patient"

See Nurse Marie's full witness here:



+++

5:45 p.m. Very Rev. Kazimierz Chwalek, MIC, BA, STB, STL (Cand.), Provincial Superior of the Marian Fathers of the Immaculate Conception in the U.S. and Argentina gave a short talk on "Spirituality and Lifestyles" to conclude the day.

Father Kaz led conference attendees in an "examination of consciousness." "What motivates you? What gets you up in the morning for work? For you day off?"

We search and search for happiness and meaning in our daily life and activities, but we will remain restless until we rest in Him.

What is spirituality? Father Kaz said, "Spirituality is the Holy Spirit. Spirituality is entering into a deeper communion with God."

See Fr. Kaz's talk here:




+++

In conclusion:

This is why we have these conferences: we want to speak the truth, in Medicine, Ethics, and Spirituality. We want to speak the truth, and the truth will set you free.

+++

DAY TWO


8:45 a.m. Father Chris Alar, MS, MIC, Director of the Association of Marian Helpers – "Fr. Joseph" presented on "Divine Mercy and Suicide: Pastoral Dimensions for Healthcare Professionals"

Every minute, someone in America attempts suicide; 2,000 people a day in the world take their own lives. "These are cries for help," Fr. Chris said.

Father Chris explained that for those who live without belief in God may logically believe suicide to be OK, and clarified that the Church does not condemn people who commit suicide. The Catholic Church does not teach that people who commit suicide go to hell, but it is a grave matter and is a form of despair over salvation. For suicide to be a mortal sin, one must have full knowledge that it is grave and must give full consent to it — and the Lord is the only one who knows the fullness of the state of that soul. Many times there are demons influencing the person or having a form of mental illness or emotional distress.

As the Catechism of the Catholic Church teaches, "We should not despair of the eternal salvation of persons who have taken their own lives. By ways known to him alone, God can provide the opportunity for salutary repentance. The Church prays for persons who have taken their own lives" (§2283).

In Diary 1486, our Lord tells St. Faustina that He comes to a soul three times at death to offer them His Mercy. This is why we must pray for souls who take their own lives, that they turn to Jesus when He comes to them. Father Chris said, "All decisions are filtered through Divine Mercy."

Father Chris then asked conference attendees: "Why are we not talking to people about their pain? Are we not spending millions, if not billions, of dollars on pain medications, but we can't be with people and listen to them in their pain?"

We need to be with people in their pain.

Father Chris then gave his personal witness of his grandmother's suicide and how he learned about the Chaplet of Divine Mercy and prayed it for her soul.


See Fr. Chris' full presentation here:



+++
9:45 a.m. Dr. Bryan Thatcher, MD, Intl. Director for Doctors for Divine Mercy and Founder of the Eucharistic Apostles of The Divine Mercy presented on "Divine Mercy as a Way of Life"

"Doctors help people prepare to see God. The rays come out from Jesus, to us, and from us to others… They must be all consuming and emanating."

Dr. Thatcher said that we must live a Sacramental life, pray the Chaplet, receive the Eucharist often, and do works of Mercy — this is how to live a life of Divine Mercy. Especially in the healthcare field, we must learn to listen — it is a work of mercy.

"The antidote to today's misery is God's mercy," Dr. Thatcher said. Appreciate the beauty of live, fall in love with God and your vocation, and turn with trust to His mercy.

Divine Mercy as a Way of Life includes the following
1. Forgiveness — Read Diary 1148; "Forgive others and forgive yourself."
2. Trust — Jesus, I trust in You! "The outcome isn't important, it's trusting along the way."
3. Mercy — Read Diary 301; "Love that seeks to lessen the misery of others."

See Dr. Thatcher's Full Presentation here:



+++

10:45 p.m. Dr. Waldemar Szypulski gave the second part of his presentation on the Case Study of Barbara Rudzik and her miraculous cure of ARDS, Pneumonia, Septic Shock, and Total Organ Failure through the intercession of St. Stanislaus Papczynski, the founder of the Marian Fathers of the Immaculate Conception.

Part two of this presentation gave the testimonies of the family of Barbara, and the nurses and doctors on her case.

Father Kaz Chwalek, MIC, also conducted a live interview with Dr. Szypulski. Dr. Szypulski received a standing ovation for his witness of faith in the midst of suffering, which led him to see the miraculous healing of his patient through the intercession of St. Stanislaus Papczynski.

See the full presentation and interview here:




+++

1 p.m. Dr. Ronald Sobecks, MD, Taussig Cancer Institute, Cleveland Clinic, Department of Hematologic Oncology and Blood Disorders presented on "Infectious Complications that Threaten Patients' Well Being"

Dr. Sobecks made many parallels between infections and sins--just as past infections can linger or reappear in the future, so can previous sin unless we ask for God's grace to help us grow in virtue.

+++
1:45 p.m. Father Mark Yavarone, OMV, Ph.D.; Professor of Bioethics, Pope St. John XXIII National Seminary presented on Current Issues in Bioethics

Father Yavarone covered topics from beginning of life issues such as IVF, three-parent embryos, adult vs. GERM stem-cell research; and end of life issues such as ordinary vs. extraordinary means of preserving life, euthanasia, and physician assisted suicide

See Fr. Yavarone's full presentation here:



+++

3:15 p.m. M. Scott Nelson, BS, RN gave his personal witness and a presentation on "The Impact of St. John Paul II on the Profession of Nursing and Healthcare."

Drawing especially from John Paul II's apostolic letter Salvifici Doloris {On the Christian Meaning of Human Suffering), Scott spoke on suffering and how the love of God makes suffering salvific.

"Suffering intimidates," Scott said, but John Paul II stood in the face of that suffering and tells us: Be not afraid.

In the struggle of suffering, Scott explained, seek the truth, which comes from God.

**Video of Scott Nelson's presentation to come**

+++

4:15 p.m. Father Seraphim Michalenko, MIC, presented on "Complete Salvation"

**Video of Fr. Seraphim's Presentation to Come"

+++

5:30 p.m. Father Kaz Chwalek, MIC, presented on the "Hippocratic Oath and Mission"

Father Kaz said, quoting St. John Paul II, that America's greatness lies in the way we treat every human being, especially the weakest and most defenseless ones.

**Video to come**