The Book That Sparked the Divine Mercy Movement The Diary... Read more
$15.95
Buy Now
Photo: Marian archive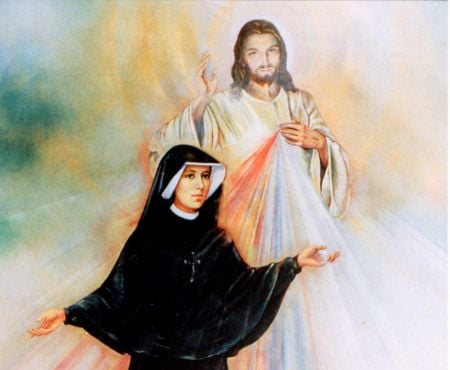 Our Father, Son of Man
In one of his songs, the Christian writer and musician Michael Card calls Mary "a mother made by her own Child." How amazing: Our God is at once Parent and Baby. We can learn a lot about His love through this apparent contradiction. Saint Faustina learned from Jesus and Mary themselves, and thanks to the Diary of St. Faustina, we can share these lessons.

Like a young girl who runs to her mother when the world has become too difficult for her, St. Faustina turned to Jesus because she knew that He loved her like a mother does. I recently reread this beautiful passage in the Diary that shows her childlike dependency on Him:


Once, I had night duty, and I was suffering greatly in spirit because of the painting of the image, and I no longer knew which way to turn because they were constantly trying to convince me that the whole thing was an illusion. On the other hand, one priest said that perhaps God wanted to be worshiped through this image and therefore I ought to try to get it painted. Meanwhile, my soul was becoming extremely exhausted. When I entered the little chapel, I brought my head close to the tabernacle, knocked and said "Jesus, look at the great difficulties I am having because of the painting of the image" (Diary, 152).


When I read that, I wrote a note in the margins of the book that St. Faustina's knock on the tabernacle reminded me of a child who knocks on the door of her parents' bedroom in the middle of the night. Saint Faustina couldn't see whether she would offend God by painting the image or by not painting it. Her prayer might as well have been, "Daddy, I'm scared of the dark." The response she got was just like the one that the child at her parents' door would have gotten. Just as those parents would get out of bed right away, open the door and take their child in their arms until her fears were calmed, Jesus immediately spoke to St. Faustina in "a voice from the tabernacle," assuring her, "My daughter, your sufferings will not last much longer" (Diary, 152).

Jesus gave strength to St. Faustina and carried her through every trial, but there were also times when He allowed her to experience Him the way His Mother did: as a child. Not long after St. Faustina came to Jesus in the tabernacle, He came to her in a similar way. Saint Faustina's Diary relates a time when she "was about to receive Holy Communion" and "a second Host fell onto the priest's sleeve" (Diary, 160). Saint Faustina did not have the opportunity to tell the priest, but the second Host fell into her hands and she waited for the chance to return it to him. While she waited, she "heard these words from the Host: I desired to rest in your hands, not only in your heart. And at that moment [Faustina] saw the little Jesus" (Diary, 160).

This account appears only a few pages after the other one, but when I read it, I had forgotten about St. Faustina's nighttime visit to the Blessed Sacrament. I wrote a note that Jesus dropping from the ciborium to stay a while in St. Faustina's hands reminded me of a child sneaking out of bed to find affection during a lonely night. Not until days later, when I looked back over my notes, did I notice the connection: that Jesus' love for us is both paternal and childlike, both protective and submissive.

Mary, as child of God and Mother of God, is a perfect teacher of this mystery. She helped to deepen St. Faustina's understanding during Mass one morning through a vision described in the Diary:


I saw Our Lady with the Infant Jesus, and the Holy Old Man [St. Joseph] standing behind them. The most holy Mother said to me, Take My Dearest Treasure, and She handed me the Infant Jesus. When I took the Infant Jesus in my arms, the Mother of God and Saint Joseph disappeared. I was left alone with the Infant Jesus. I said to Him, "I know that You are my Lord and Creator even though You are so tiny." Jesus stretched His little arms out to me and looked at me with a smile (Diary, 608)


Jesus taught us that the humble will be exalted, as He was exalted by the Father. But at the same time, Jesus seems to want to keep humbling Himself for us. He first came as a baby, and sometimes He wants us to see Him as a baby still. We know that babies won't hurt us; we take them in our arms without fear. Jesus snuggled close to St. Faustina with the affection of a child, wanting only to be near her. The same Lord Who receives us with the protective love of a Father also comes to us with the innocent love of a child, a love that teaches us to say, unafraid, Jesus, I trust in You.

Marian Tascio is a writer and English teacher who lives in Yonkers, N.Y.