Home / News & Events / From the National Shrine
His Heart Beats for Divine Mercy — Find out how Texas native, Charles Yezak's severe heart attack helped him and his wife of 51 years, Nellie, embrace the message of Divine Mercy and devote their lives to spreading it.
There's Something Special Here — On this beautiful spring day, pilgrims from Hartford, Connecticut, came to visit the Shrine.
On Oct. 14, the new Holy Family Shrine on Eden Hill was rededicated. See photos from the dedication here and learn why the Holy Family's intercession is so important for our time.
On Oct. 13, 2017, Fr. Anthony Gramlich, MIC, hosted a day retreat entitled "So That All May Believe: The Miracle of the Sun." See videos from the day here.
Sophia had been an agnostic since she was 14 years old. At 72, Rick led her to Christ, who forgave her past and brought her into the Catholic faith.
This year's Encuentro Latino celebration was in honor of the centennial anniversary of the apparitions of Our Lady of Fatima.
Hundreds of Filipinos gathered today at the National Shrine of The Divine Mercy to celebrate their culture and their faith.
On the Solemnity of Corpus Christi, Fr. Anthony Gramlich, MIC, gave a homily on the Jewish roots of the Mass and explained how Jesus is the fulfillment of the Passover Meal. Watch his full homily here.
The peace was tangible on Divine Mercy Sunday this year at the National Shrine of The Divine Mercy — a beautiful day of celebrating God's mercy!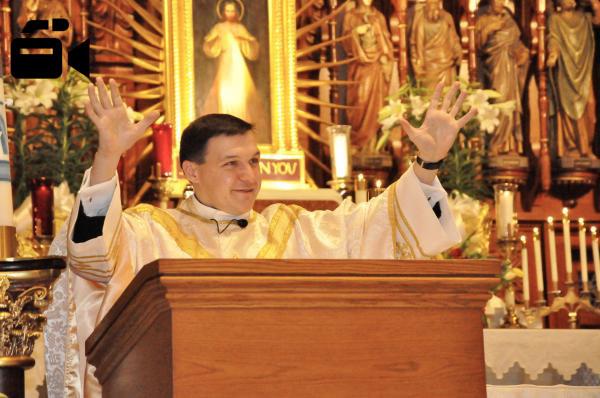 Watch the Easter Vigil Liturgy from the National Shrine of The Divine Mercy!
Father Anthony Gramlich, MIC, rector of the National Shrine, preached a moving homily on the Passion of the Christ at the Liturgy of the Lord's Passion on Good Friday.
"Who would have thought that Jesus would go so far to prove His love for us." Father Bob Vennetti, MIC, preached at the Liturgy of the Lord's Supper on Holy Thursday this year.
Each morning in the softly lit oratory adjacent to the Prayerline's office, Blanche would take her position in the front pew, left side.
The Marians renewed their vows and consecrated the National Shrine, the Marian Helpers Center, and all of Eden Hill to the Immaculate Conception.
We've got photos and inspiration — from the National Shrine of The Divine Mercy's closing Mass for the Jubilee Year of Mercy.
Next Page | Last Page