Home / News & Events / In the News
Cardinal Christoph Schönborn made it clear that the legacies of Pope John Paul II and St. Faustina were central to the historic gathering.
An interview with Dr. Robert Stackpole, whose new book, Divine Mercy: A Guide from Genesis to Benedict XVI, takes the big perspective on mercy.
Dr. Bryan Thatcher reflects on the 35th Anniversary of Roe v. Wade.
The all-day gathering will have the theme "Healing and Forgiveness Through God's Mercy."
The topic: arguably the most exciting news story involving the Divine Mercy movement since the canonization of St. Faustina in 2000.
The U.S. bishops spelled out what young people can and should do to share their "time, talent and treasure."
Some of the world's leading experts in the message of Divine Mercy will gather Oct. 12-13 in Milwaukee, Wis., and Dick and Terry Boldin couldn't be happier.
Some 10,000 people from around the world — church officials, clergy, religious, delegates, and many thousands of lay people, all of whom share a love for Divine Mercy — are expected to attend the milestone gathering.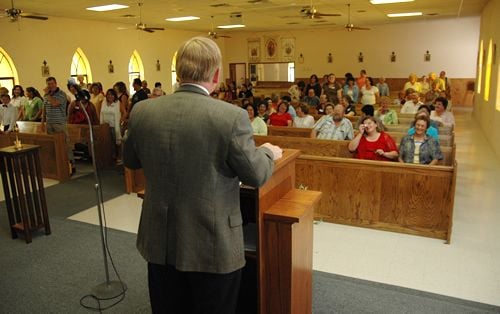 This is what happens when people draw closer to The Divine Mercy.
For the third consecutive year, the Marians of the Immaculate Conception hosted the lively sights, sounds, and smells of salvation, song, and salsa as more than 3,000 pilgrims gathered on Eden Hill for Encuentro Latino.
Well, imagine my surprise when I saw mercy writ large in the day's headlines right on the front page.
The milestone event in Rome next year could very well become the defining moment in spreading the message of Divine Mercy.
It was deja vu on April 24, 2006, as Vinny Flynn and his family music ministry, Stillwaters, took part in the re-filming of the Chaplet of The Divine Mercy for daily broadcast on EWTN.
As the summer traveling season begins, the Vatican has made a plea that mercy be the new code of the road.
At its annual media convention, the Catholic Press Association announced that Marian Helper magazine won three awards, including "First Place" in the category of "General Excellence."
First Page | Previous Page | Next Page | Last Page