Home / News & Events / Divine Mercy Q&A Archive
After all, didn't she speak directly to Jesus?
One reader writes: "When I told my Protestant friend I was going to pray to St. Faustina for her, she told me not to bother."
The Protestants say we are making all this up.
If you live long enough, I guess, you will eventually find every form of lunacy somewhere in print.
Dr. Robert Stackpole's answer may surprise you ...
I suppose the first clue to what He meant is the fact that He connected "simplicity" with being "childlike."
Tim wonders, "I am especially intrigued by what you wrote about "consoling" the Heart of Jesus, and how St. Faustina believed we could do that, too."
That he sees little coming from the devotion seems at odds with the great promises our Lord makes to St. Faustina.
One reader asks: "How can educated people today really hear the message of Divine Mercy ... if it is all tied up in knots with biblical and ecclesiastical fundamentalism?"
One reader finds Catholic imagery "rather disconcerting." But Dr. Robert Stackpole explains what the pain is all about.
Dr. Stackpole tackles misunderstandings about the Church's official stance toward St. Faustina's revelations.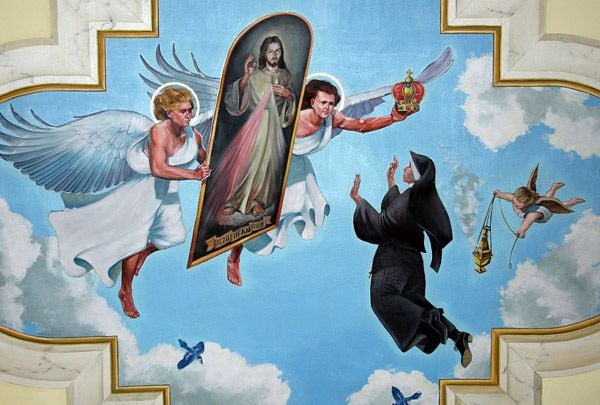 It's semantics. It's spiritual. It's very important.
They are red and pale. Why? They come from Christ's Heart. Why? Our readers want to know.
A Carmelite named Mellie sent me a question that is certainly refreshing for its honesty.
What did an essayist write about the Divine Mercy message and devotion? Here it is, and here are the many reasons why he's wrong.
First Page | Previous Page | Next Page | Last Page